There is something "refreshing" about changing things up in your home as the season and weather usher us into spring. It certainly doesn't have to be a complete overhaul, although we can help you there too. Even if it's just a few well placed new additions, it will still feel great! To help and inspire you, we have curated the top 5 favorite decor trends for Spring 2022 and are happy to share with you! Let's do it!
#1 Greenery
No surprises here - we love bringing "life" into a space with plants. Best advice when plant shopping, pick plants that are easy to maintain (think Snake plants, Pothos and Peace Lilies) or go with a faux plant for a maintenance free route. Not everyone has a green thumb or the time to deal with finicky houseplants. Go with a lighter shade of green for a dark corner, no sunshine required. Here on our showroom floor, we have a plethora of well appointed silk & faux plants perfect for your living space.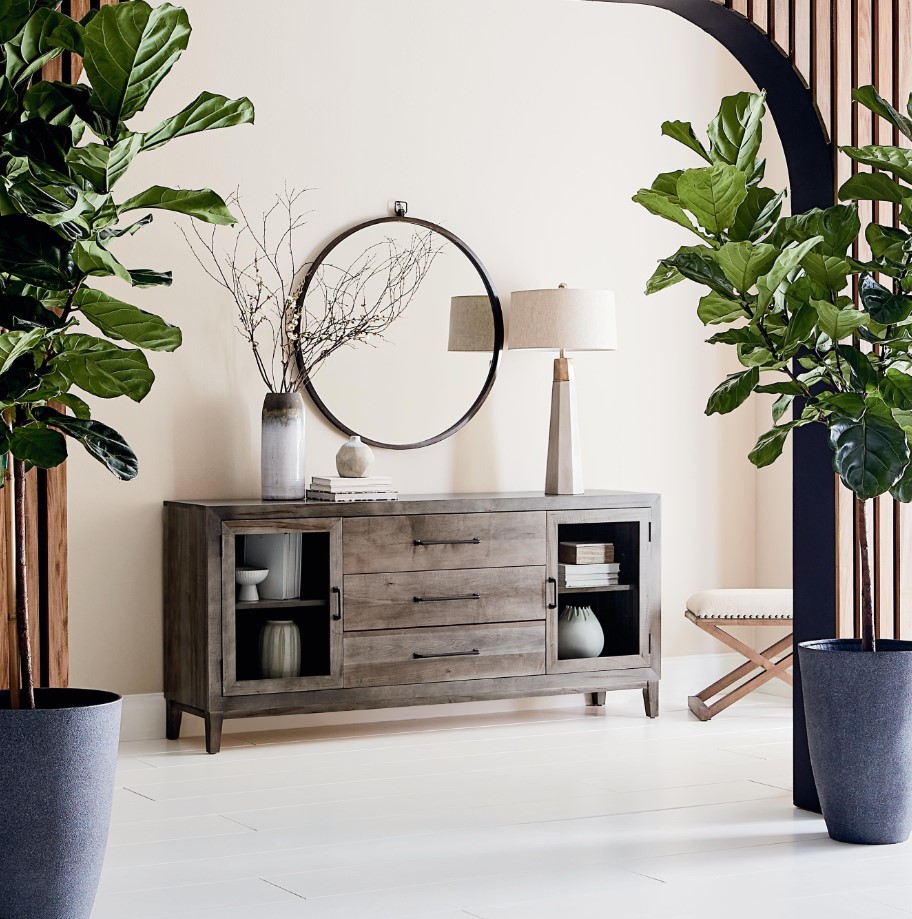 #2 Fun Pieces In Your Entryway
Oftentimes, the entryway (or foyer if you're fancy) is a forgotten space that doesn't get the love it so deserves. Think of it as a separate room; it's the first space people see when they enter your home, the first impression if you will. Pro Tip: To make that space inviting, welcoming and comforting, add a few pillows to a bench, add a colorful area rug or a mirror to open the flow.
"Your entry way should represent how you feel, and that feeling should flow into the rest of your home." -Garrison's Design Extraordinaire Erica Gottula
#3 Reflecting Nature Through Color
Manifest the beauty that nature creates inside your home. Bring color from the outdoors, indoors! Think jewel tones; yellows, greens, orange-y reds. A pop of color here, a pop of color there! Add an accent chair in a vibrant color to your neutral living room, paint an accent wall (always use a matte finish) or switch out those gray throw pillows for marigold! Natural tones are, naturally, relaxing, inviting and fresh. Create a natural oasis within your home.
Trend #4 Sustainability is Satisfying!
With global warming being a major concern, we're seeing a shift in people prioritizing sustainable living practices and products. Consciously designed and responsibly manufactured products are quickly becoming a part of every home, from building materials to furniture! It's no surprise bamboo has emerged as one of the leading materials to our sustainable future. Incredibly strong, versatile and beautiful, as well as needing less water, land and time to grow than trees, this is a material that truly embodies sustainability!
#5 Landscape Art
Gorgeous oil paintings or prints are no longer just for museums. Landscape art is finding its way into countless homes across the country and we're here for it! As everyone can appreciate a beautiful landscape, bringing them into your home can create a fresh look, add natural colors to otherwise neutral walls and can even whisk you away to a peaceful place within, if just for a moment.
"Add a small to mid-sized piece of landscape art to any bookshelf, nook, or kitchen to immediately add a little jazz to your room. If your budget doesn't allow for an original piece of art, grab a framed print to achieve the same effect!" -Garrison's Design Rockstar Erica Gottula